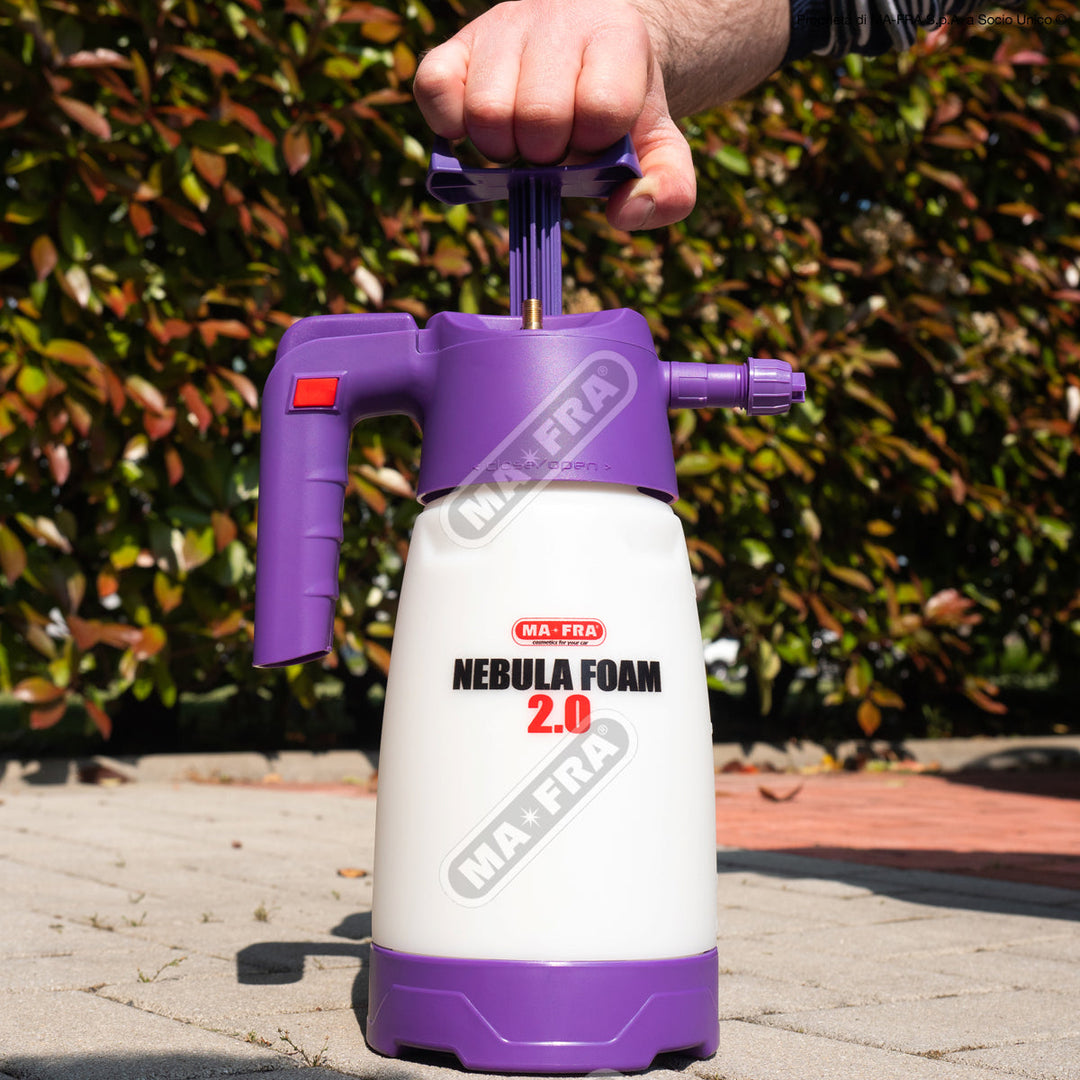 Nebula Foam 2.0
Regular price
$65.95 CAD
/
---
Free Shipping on orders over 50$
In stock, ready to ship

Inventory on the way
If you want to pre-wash your car or motorcycle with foam but don't have a high-pressure washer available, Nebula Foam 2.0 is the accessory for you!
Nebula Foam 2.0 is a manual pump that allows you to create dense and adhesive foam for a pre-wash without the use of a foam gun. In just a few steps, you'll achieve a complete and high-performance foamy pre-wash!
Nebula Foam 2.0 is a dual-use foam nebulizer, allowing you to use the product in two different modes - you can choose between "manual charge" and "automatic compressed air charge."
Nebula Foam 2.0 is equipped with a connection for compressed air. Thanks to the universal Schrader valve, also used in vehicle tires, it will be possible to pressurize the Nebula 2.0 quickly and easily, saving time and effort. For automatic charging with compressed air, you can use any type of battery-powered electric compressor or one that can be connected to the car's cigarette lighter, such as compressors supplied with some cars.
Thanks to the dense foam created by Nebula Foam 2.0, the contact time between the product and the surface increases, allowing the product's cleaning capacity to work for a longer period, loosening dirt and making it removable with rinsing.
Product Specifications:
Useful capacity: 1.25L
Total tank capacity: 2L
Maximum pressurized charge capacity: 3 bars
Pressure relief valve that can be depressurized
Protection base against accidental impacts, ensuring greater stability
2 colored caps (blue and yellow) to identify the product in the tank
Safety lock on the handle to prevent accidental nebulization
Semi-transparent tank with level indicator
Three nozzles for creating three types of foam
Large opening for quick tank filling
Easy to assemble and disassemble for cleaning and maintenance, without the use of tools
Innovative and ergonomic design
Nebula Foam 2.0 is equipped with three nozzles that allow you to produce three types of foam: wet, intermediate, and dry.
Which nozzle to choose?
Green nozzle: provides dry foam, suitable when you don't want to wet the surface to be cleaned.
Gray nozzle: provides intermediate foam for all kinds of tasks, included as standard.
Orange nozzle: provides wet foam and greater coverage, suitable when you want to cover a large surface.
All orders for our products undergo processing and are dispatched within 1-3 business days for both Canada and the United States.

The cost of shipping is determined by your location and will be calculated during the checkout process.

For all orders exceeding $50, shipping is provided at no additional cost. Regrettably, we exclusively offer shipping services to Canada and the USA, with no international shipping available. Expedited shipping options are also available.

Please note that orders are neither shipped nor delivered on weekends or holidays. In the event of a high influx of orders or the inclusion of pre-order items, shipments may experience minor delays.

Kindly allow for extra transit days for the delivery process. In the case of a noteworthy delay in the dispatch of your order, we will reach out to you via email.